What did technology in ministry look like in 2007? Many churches didn't have a website, and social media giants of today were simply toddlers at the time. There was a digital frontier, of sorts, full of potential for outreach to the largest audience any church could hope to reach, the world, with the gospel of full and free salvation through Jesus Christ.
It was in this environment that my boss, WELS Chief Technology Officer Martin Spriggs, envisioned WELSTech, a weekly podcast with a relevant mission –
WELSTech exists to explore the use of technology to further the spread of the gospel.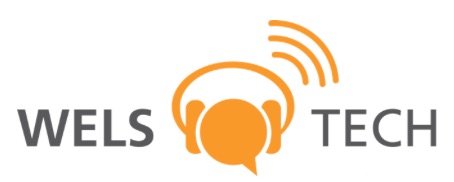 I've been blessed to co-host WELSTech with Martin since our launch on January 9, 2008. Little did we know when we started 9+ years ago that we'd still be going in 2017! Over all those years, we've witnessed firsthand the countless creative ways God's people have used the full complement of technology tools available to them to spread the good news, from verse images to online and mobile Bible study tools to live video and much, much more. Just like the printing press facilitated the Lutheran Reformation, the advent of the digital age is affording the church unprecedented opportunities for outreach.
Let's explore a few tools for outreach we've shared over the years on WELSTech.
Get To Know Them
First things first! Before all the the bells and whistles of shiny technology kick in, at its most basic level, digital outreach is about making and fostering connections and trust as real people with real people, one at a time. The items in this section can help with that process.
Digital Communication Platforms
Probably the biggest impact of the digital age is the ability to self-publish all types of content via many electronic communication channels.
Create Image & Video Content
I'm sure you've heard the phrase "content is king" when describing the internet. It refers to the thought that the key to success on the internet is having just what people are looking for on your website — a message, a product, training, etc. — and not only having it once, but keeping that great material fresh regularly so they come back for more.
In this digital age I'd modify the phrase slightly to say "visual content is king" because images and video are expectations in online communication today. On WELSTech, we've shared tons of resources to help with the creation of visual content.
Stock Photography - The Internet is a great place to turn to find the perfect photo to supplement your outreach communication. Stock photography sites exist that curate photo content to make it easy for users to find that perfect photo using just a few search terms.

Homegrown happiness - The WELSTech Challenge Album is a collection of 1,000+ royalty-free, high-resolution photos which were donated by WELSTech listeners for use in ministry. The album is hosted on Flickr and searchable using the term welstechphotochallenge coupled with other specific search terms. The album includes images representing all parts of the church year (Advent, Christmas, Lent, Easter, Confirmation and more), school, outreach, food, and seasons of the year.
Christian photos - Two sites which offer Christian stock photos are Freely Photos and Lightstock (fee-based).
And many more ... - For general photo needs, there are some amazing fee-based stock photography sites, but I am rarely disappointed with my search of these free sites: Pexels, Pixabay, Unsplash, and Morguefile.

Work with images - Finding the image is just half the battle, though. Often images need to be sized, filtered and finessed before they are ready for prime time outreach work. Sharing images on social media means they need to be certain dimensions for optimal display. Check out this article on social media image sizes for up-to-date details on this. And try out these image editors to achieve the look you want with your images.

Editing - My all time favorite (fun, easy, intuitive, versatile … you get the idea) online image editor, PicMonkey , recently announced they are no longer free. I'm still on the fence about paying for the service so in the interim I'm checking out other free options with Pixlr and Fotor.
Design - For design, Canva , has the most professional templates I've found online. Some imagery on their site is fee-based, but you can upload your own (from the stock imagery sites listed above) and use the templates for free! On my phone, I love to experiment with images using mobile apps Prisma and WordSwag.

Stock Video - I'm guessing much of what you want to share via video would be footage recorded at your congregation, but I thought it was worth a mention that Pexels has a great (and free) stock video library as well.

Video Creation/Editing - My go-to video editor is Camtasia . It's powerful and easy to learn. Plus you can try it free for 30 days, which I'm guessing is plenty long enough to produce several great video projects.
Track Prospects
The topic of outreach and technology can't be discussed without a mention of the great help a record management system of some sort is for keeping up with prospects contact information.
Spreadsheets - Microsoft Excel or Google Sheets can easily serve as a starting point for recording contact information.

WELS discounts - Shepherd's Staff & Church360 Members from Concordia Technology Solutions are part of the ShopWELS program so congregations who purchase get a discount.

Morphing a sales contact database solution - Salesforce is an online database designed to track sales prospects. Many congregations have begun using it for prospect management, and the non-profit pricing makes it affordable. Fair warning, however - you'll need to be a bit techie to take this on. Pastor Dan Bondow presented on Salesforce during the WELSTech Conference 2015 IGNITE event (video archive) beginning at 30:25 in the video.
So there you have it - the best of the best for outreach from WELSTech. I hope you find a nugget or two to assist in your efforts of sharing the saving Word with the world!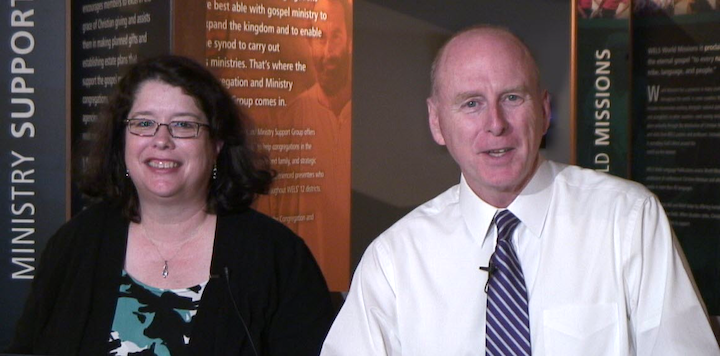 WELStech hosts Sallie Draper and Martin Spriggs
---
Translate this page into your language
Return to original language with "show original" button at top left.